Discover
HERNANDO BEACH
Scalloping Out Of Hernando Beach
Florida residents and visitors are able to take advantage of its abundant marine life by harvesting delicious delicacies like bay scallops, stone crabs, shrimp, and grouper, to take home and enjoy.
Bay scallops are one of the most beloved of these treats. Compared to sea scallops commonly found in fine seafood restaurants, bay scallops are much smaller and sport unique hues, typically in light beige or pink, instead of the traditional white. Once cooked, bay scallops provide an exquisite flavor that is much sweeter and more tender than sea scallops. Contrary to oysters and clams that just stay attached on certain surfaces, scallops are capable of swimming due to their lightweight shells that open and close rapidly for propulsion. The same shells also act as its camouflage since it neither has the capacity to hide nor dig.
HERNANDO BEACH
Scallop Season in Hernando Beach
In order to scallop recreationally in Florida, a valid saltwater fishing license is required, except if on a charter boat with such license. The bag limit is 2 gallons of whole scallop shells or 1 pint of scallop meat per person per day. Possessing or bringing aboard a vessel more than 10 gallons of scallop shells or 1/2 gallon of scallop meat is illegal, as well as gathering in areas outside open harvest areas. During the activity, a dive flag is required at all times, even when wading. You can apply for a fishing license online (Click Here).
Scalloping requires the right gear and equipment in order to be successful: a dive mask, snorkel, fins, mesh bag, a cooler with ice, a waterproof glove (optional) and scalloping knife, and a dive flag.
Hernando County (including Cedar Key, Crystal River and Homosassa) 2023 Scallop Season: July 1 – September 24
Pasco County 2023 Scallop Season: July 1 – August 6
Please do not discard scallop shells in inshore waters commonly used for recreational activities such as the Homosassa River or Crystal River. Piles of discarded scallop shells can create hazards for swimmers and damage seagrass habitat. Scallop shells can be discarded in a trash receptacle or in larger bodies of water where they are more likely to disperse.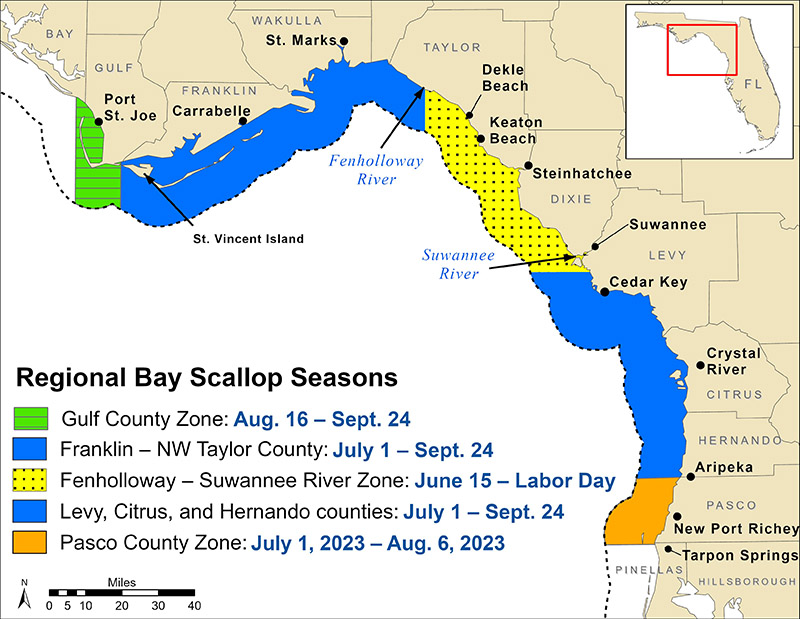 HERNANDO BEACH
Where to find scallops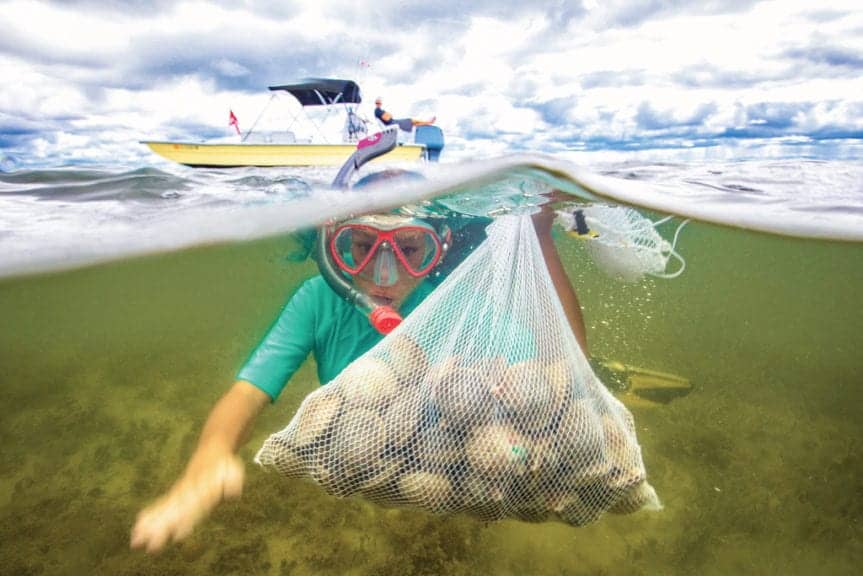 When scalloping, the ideal water depth is 4-8 feet, with a clear view and sea-grass beds. Once a scallop is located, jump in and grab it, taking care to watch out for its pinch. Upon swimming back up, one's eyes may take a moment to adjust to the light. These scallops must go straight in the live well or a cooler with ice on top, as the heat or freshwater will quickly cause their death. Additionally, the ice will help in opening the shell as the muscle relaxes.
Is scalloping kid friendly? Yes, scalloping is an activity suitable for all ages, given the requisite safety measures. A life jacket is a must for children who are not strong swimmers, as well as a smart choice in general. Tides and currents influence the waters, thus it is important to research the locality prior to getting in.
What is the best time for scalloping? Given the rainy season and high summer demand, the ideal time to go scalloping in Florida is during weekday mornings. Furthermore, if size is a priority, trips at the end of the season, when kids are back in class, will be less crowded and yield larger scallops.
There are so many spots to go scalloping! Once you leave the Hernando Beach channel and head northwest, you can usually find boats gathering around grassy areas in the water. These spots are not too far out. Once you leave the channel you'll soon find them. The water south of the Bayport Channel is mostly rock and sand bottoms, while the grass flats that provide scallops start further north.
HERNANDO BEACH
Book a scalloping charter