Discover
HERNANDO BEACH
Accommodations
For accommodations, visitors can choose from a host of cozy lodgings in the area, from waterfront homes on the canal, to rentals overlooking the Gulf of Mexico. Whether you're looking for a traditional stay, or something a bit more adventurous, you'll find just what you need among the many superb Hernando Beach accommodations.
HERNANDO BEACH
where to stay
Unlike places like Panama City, Miami, or Daytona Beach, Hernando Beach does not have high-rises and condos to choose from when vacationing in this beautiful hidden gem. Your best bet is to rent an AirBnB or stay at the Hernando Beach Motel; the only motel in the city. If you don't mind the drive (about 10-15 minutes), you can find more hotels in Spring Hill and Brooksville.
The Captain's House 
Phone: (352) 596-2527
Address: 4138 Pine Dale Ct, Hernando Beach, FL 34607
Website: https://www.hernandobeachmotel.com/the-captains-house
The Captains House is located just up the road from our Hernando Beach Motel location. It features 5 of the most luxurious rooms imaginable with the surrounding scenery of a lush, tropical paradise. When you choose to stay at The Captains House, your choosing privacy, exclusivity, and the ideal location for a little getaway, even if its a staycation. We have all that Hernando Beach offers at our little hideaway.
Gulf Front 2nd Floor Home with Kayaks 
Address: 3371 Gulf Winds Cir, Hernando Beach FL 34607
Website: View on AirBnB
Bring the whole family to this great vacation home with lots of room for fun. Enjoy beautiful sunsets on your private multi-tiered deck, watch the Flats from your living room, ride the kayaks in the canals or watch the dolphins play in the canal. Located directly at HB marker 60. 4 Kayaks are available for our guests.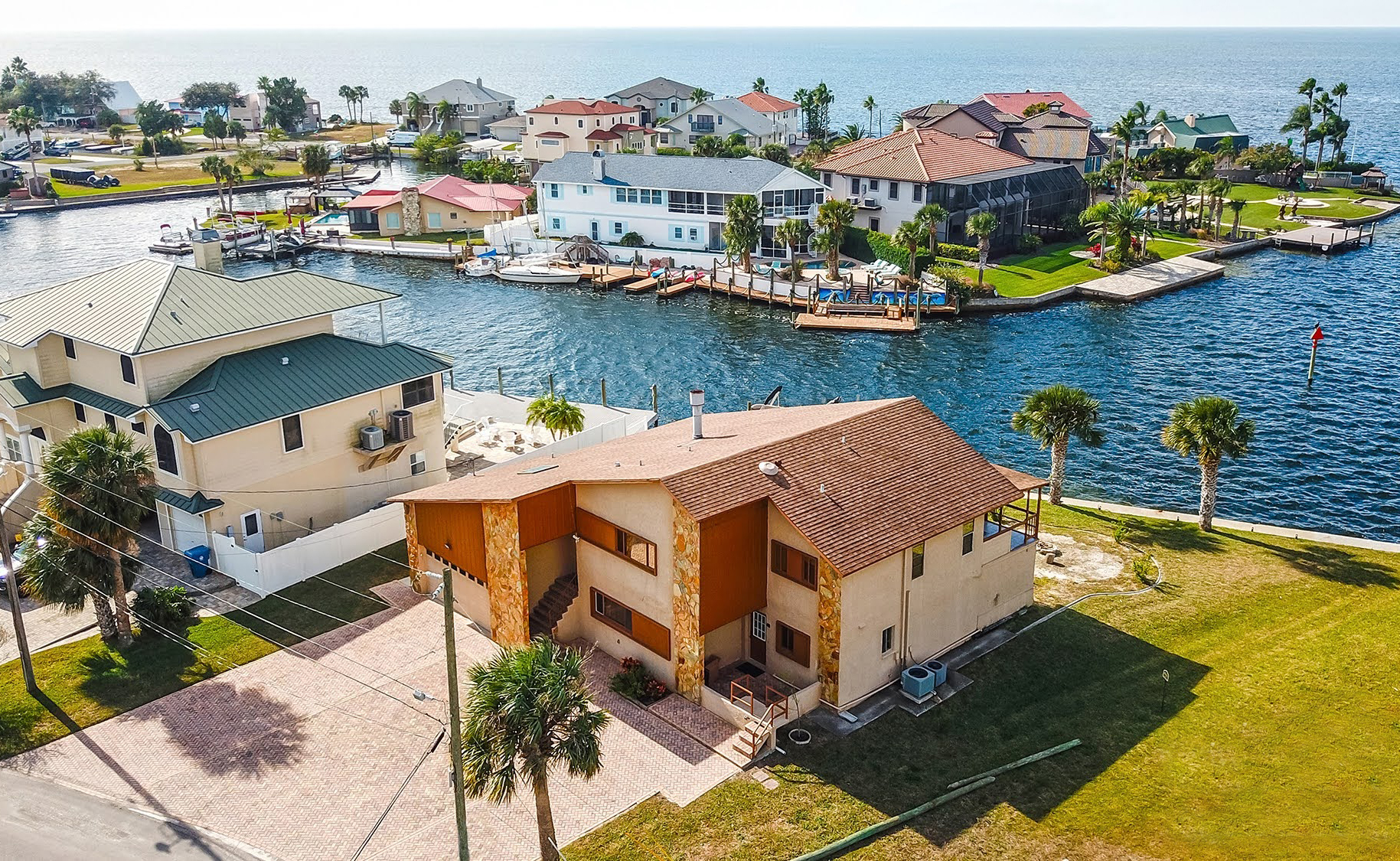 Sunshine Escape 
Phone: (732) 809-2600
Address: 3445 Paragon Terrace, Hernando Beach, FL 34607
Website: https://thesunshineescape.com
Embark on a getaway to Sunshine Escape! This 5-Star stay in Hernando Beach is nestled on a quiet cul-de-sac along a serene canal with direct access to the Gulf Coast of Florida. Lounge on the Covered Patio, Park Your Boat at our Newly Installed Floating Dock, get cozy by the Firepit, or take a refreshing swim in the waterway.
Blue Tortuga
Phone: (813) 469-9163
Address: 4110 Pine Dale Court, Hernando Beach, Fl. 34607
Website: View on VRBO
Relax in a beautiful home, boasting 1800 square feet of livable space upstairs with a full 1800 square foot garage & Game Room downstairs. The upstairs deck is perfect for relaxing and watching the dolphins & manatees come in to play. Along with a new house comes all new appliances, furniture, bedding, etc. Boat ready – Dock on Site. Easy access to the Gulf of Mexico… just right around the bend. Feel free to explore the waterways with our 2 kayaks or the neighborhood on our bikes.
Neptune's Grotto Old Florida Adventure Retreat
Phone: (954) 254-3769
Address: 6004 Cortez Blvd, Weeki Wachee, FL 34607
Website: View Website
Neptune's Grotto is an Old Florida Adventure Retreat on the water in Weeki Wachee. Nestled next to a pristine spring with amazing views over the marsh grass. The property consists of "Neptunes Throne", a three bedroom residence and his four mermaid chambers, "The Vintage Mermaid", The Salty Siren", "The Muddy Mermaid" and "Sirenity" In addition, there is a vintage camper, "The Funky Flamingo", situated by the waterfront for the slightly more adventurous!
Azalea by the Sea 
Phone: (727) 712-7777
Address: 3276 Azalea Dr. Hernando Beach, Fl. 34607
Website: View on AirBnB
Azalea by the Sea is a great vacation spot! We offer lots of water activities for you to enjoy during your stay! Kayaks, paddle boat, a water mat, fire pit & more right in your backyard! Drive just 5 minutes north and enjoy a day on the Weeki Wachee River! Local bars and restaurants offer entertainment every night!! This house is comfortably furnished & fully equipped with everything you'll need to make you feel right at home. Book your trip to Paradise!
Mary's Fish Camp 
Phone: (352) 597-3474
Address: 8092 Marys Fish Camp Rd, Weeki Wachee, FL 34607
Website: https://marysfishcamp.org
View Prices and Reviews
Mary's Fish Camp offers 17 full RV hook-ups and 4 cabins with full kitchens and bathrooms offering daily/weekly/monthly rates. Enjoy fishing for mullet, mangrove snapper, snook and redfish from the 275 foot seawall. Mary's Fish Camp has a boat dock and offer canoe and kayak rentals. The bait store carries your fishing supply needs. Watch the manatees, dolphins and otters in this beautiful tranquil setting.
Paradise on 5th Isle Dr
Phone: (352) 277-2940
Address: 4385 5th Isle Dr, Hernando Beach, FL 34607
Website: View on AirBnB
This 2 bedroom gulf side home boasts scenic views from the canal. It has direct gulf access so bring the boats, kayaks are on site for your enjoyment. We are a pet friendly home for a small fee. We are local to Hernando Beach and its only a short distance to Homosassa, Crystal River, lots of beaches and springs.
Hibiscus Beach House
Phone: (352) 277-2940
Address: 3223 Hibiscus Dr, Hernando Beach, FL 34607
Website: View on AirBnB
Come enjoy this luxury 5 bedroom 4 bath heated pool home with private dock and loaded with things to do, close to many restaurants, boating, kayaking. We have Kayaks for your use and to enjoy the water!
We have Fishing poles. Pets are welcome up to 40 lbs for a non-refundable pet fee of $150.00 per pet max 2. We have security cameras outside if a pet is seen we will send you a bill for the pets.
Tranquil Waterfront Retreat
Phone: (720) 394-9829
Address: 4503 Jacona Dr, Hernando Beach, FL 34607
Website: View on AirBnB
Welcome to "Florida's Nature Coast"!! The beauty of nature coast marshland, eco tourism galore, scalloping from our back yard, boating and fishing paradise, private retreat to renew and refresh- we have it covered! As you step inside, you'll first notice the wide open space of this home. The kitchen has been tastefully updated, a dedicated beautiful dining area, family room with 65″ smart TV with streaming apps and more.
Waterfront Serenity
Phone: (720) 394-9829
Address: 4087 Gulf Coast Dr, Hernando Beach, FL 34607
Website: View on AirBnB
Find your serenity at this relaxing waterfront gulf home with amazing views! Tastefully decorated, 4 bedroom, 2 bathroom home. Well equipped/updated kitchen with brand new appliances. Screened in pool, outdoor kitchen, wine fridge and mini fridge.
VRBO
Website: Click here for vacation home rentals in Hernando Beach
Most accommodations in Hernando Beach are available on VRBO. Almost every home in Hernando Beach has access to the water (usually the canal system), so you shouldn't have a problem finding a great rental for your vacation.